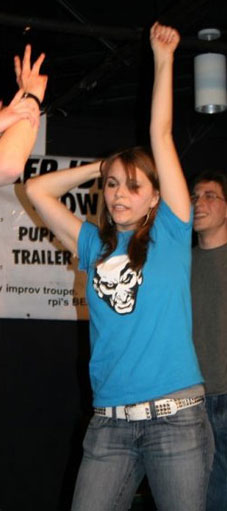 Becky Dash
Idiot from: Spring 2006 to Spring 2009
Becky Dash, the daughter of an Egyptologist and a condiment (Mrs. Dash), has lived most her life in the back fields of Connecticut.
She had performed improv for many years prior to college and joined Sheer Idiocy in the Spring of '06. While her skills in elementary school were far superior to that which you see today, she, none-the-less, continues to charm audiences with her dashing good looks and quick-witted humor.
Her skills include; cutting clothes, mouth-to-mouth recessitation, dissection of amphibians and reptiles, running quickly, shimmying, and eating cereal.
She enjoys late night parties and carries scissors that can cut your clothes off with the greatest of ease.
You can purchase a pair of her pateneted slash and dash scissors at your local EMT supply store.
Gloria from the Bold and the Beautiful raves; "Even though I'm not a real doctor or EMT, I love these scissors."
Neil Patrick Harris is known to say; "Without the slash and dash scissors I would not be where I am today..."