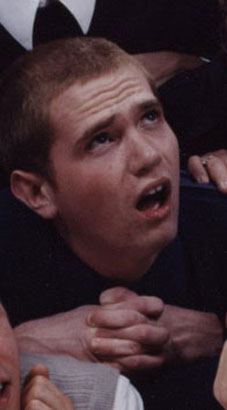 Bobby Wood
Idiot from: Fall 2005 to Spring 2009
It was widely rumored throughout the early 21st Century that Bobby Wood was one of the most handsome, intelligent, and creative entities in the Universe. Scientists at CalTech have just proven this to be true, so in fact it is no longer a rumor, but scientific law.
The New York Times calls Bobby Wood "One of the Best Plays of the Year!".
The Wall Street Journal said "If you're going to make one investment in the coming decade, invest in Bobby Wood!"
National Geographic wrote, "Watching Bobby Wood in the wild is like seeing a mass migration of penguins."
Playboy magazine described Bobby Wood as, "The one man who could have any woman he wants!"
Playgirl magazine described Bobby Wood as, "The man's man - a delightful human being."
Cosmopolitan wrote, "If one person could persuade us not to write about sex, it's Bobby Wood."
But besides all the magazines, what are people of influence saying about Bobby Wood?
George Bush said, "He the man!"
The Pope said, "For me, temptation does not come from Satan, instead, it comes from that devilishly charming Bobby Wood!"
Barbra Streisand was heard saying to her hair dresser, "I swear, if I denied loving Bobby Wood, my nose would grow even bigger!"
Prime Minister Junichiro Koizumi of Japan said in an official Japanese Government Press Release, "To make me convince whose well it is actual to eat that raw fish, equal it is possible the Bobby Wood."
To view the full list of Bobby Wood description, please contact the Library of Congress, and ask for book 2233.342RW - it's a delightful read!