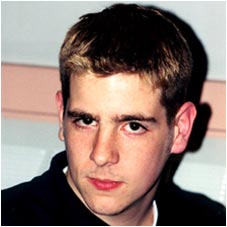 Doug DiPietro
Idiot from: Spring 1998 to Spring 2001
Doug DiPietro performed with Sheer Idiocy for over three years while pursuing his BS in Electrical Engineering. While with Idiocy, he perfected the roles of 'Latwanda Ezmerelda Boutros-Boutros Bushika Smith' and 'Swimmin' River Baby', and with the help of fellow alums Andrea and Stef, coined the popular 90's catch-phrases "Sweet Nancy!" and "Damn, Shaniqua, that's a mighty pile o' douche!" Doug graduated in 2001 and moved back to his hometown of Boston, MA.
After working in the field for two years and dealing with layoffs, Doug decided to leave engineering and pursue acting, with a focus on improvisational comedy. Taking his experience from Sheer Idiocy, in the summer of 2003 he auditioned for and was cast in a new Boston-based artists' collective/performance group, The Tribe. He worked for three months with "Starship Imagination," one of the Tribe's improv groups. After just three performances with "Starship Imagination," Doug was cast in the NXT Cast at Boston's famed Improv Asylum, a professional improvisational and sketch comedy theater. He performed weekly for 5 months, and the cast ended its run at the end of Spring 2004.
Shortly thereafter, he was cast in a scripted musical political satire being produced at the Asylum, playing Rosie O'Donnell. "Burlesque Exposes Bush" ran to sold-out crowds during the weekends capping the DNC (held in Boston), and then toured to New York City's Wings Theater, located in the West Village, for the RNC. "Burlesque" then returned to Boston for a successful extended run in October, leading up to the Election. Doug was then asked to return to join a new secondstage cast at Improv Asylum, as well as work as a corporate and college performer, where he continues showcasing improvisational and sketch comedy.