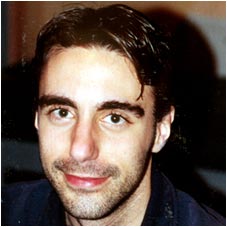 James Carolus
Idiot from: Fall 1997 to Spring 2001
I am one of the Founding Fathers of Sheer Idiocy. I had been with the group for three years since the beginning.
In 1990, I graduated from Watervliet High School and moved onto Edinboro University of Pennsylvania. That is where I took many acting classes. I was a Dramatic Arts Major. I took History of Theatre, play writing, stage construction etc. In 1994, I was an intern with NYSTI (New York State Theatre Institute). There, I learned stage construction, stage managing, and lighting. I also acted in one of their productions.
I am now 30 years old and have a beautiful fiancee. I am living with her in Albany along with two black cats. On my spare time from working at First Cardinal, I like to play video games, write screenplays for independent films, watch or go see a movie etc.
The troupe was a great experience for me. I met and worked with a lot of talented people. They are still in existence and growing strong. I wish them the best of luck.
Now go here: http://www.veryscaryproductions.com.